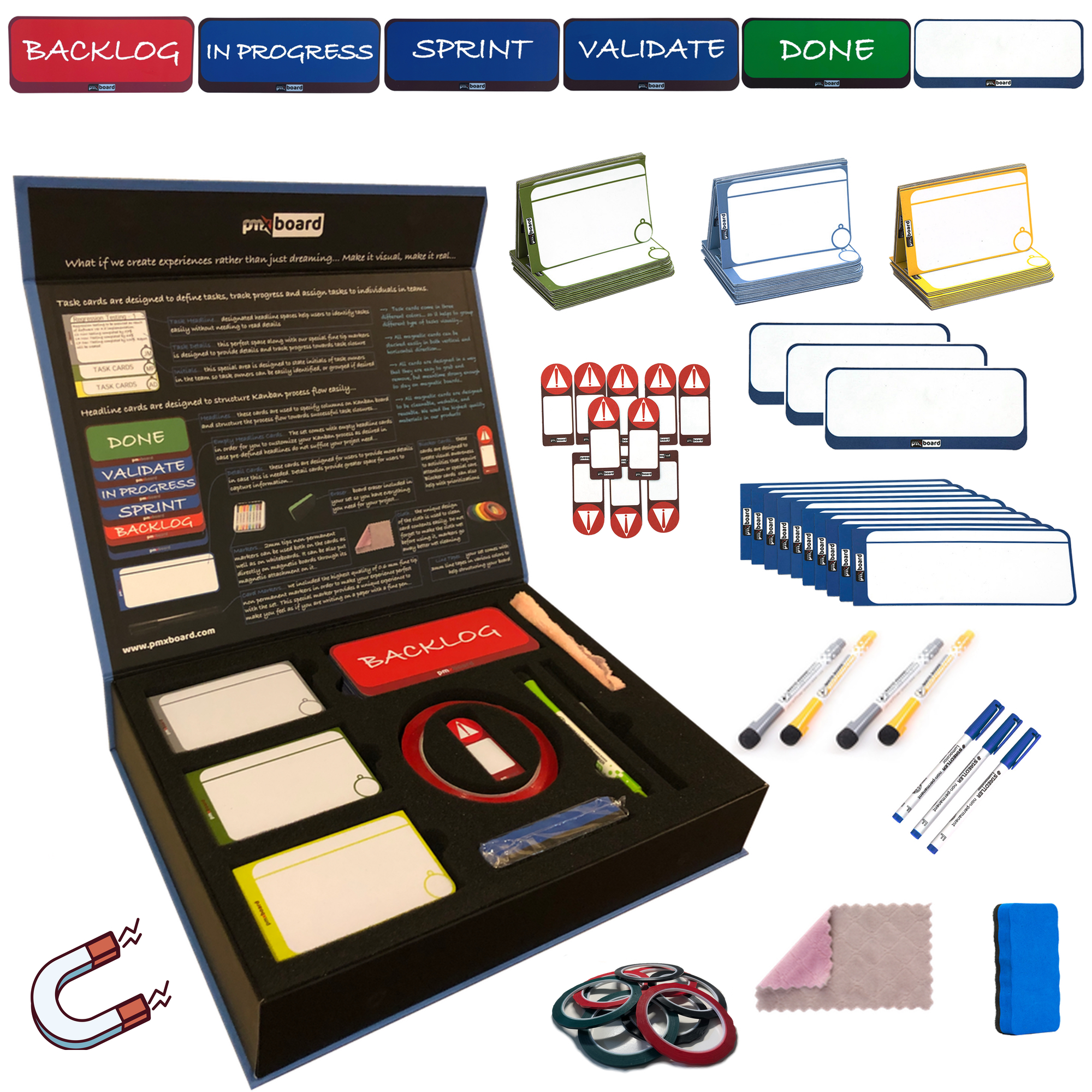 Agile Management Set 1.0 Standard,114 pieces
Agile Management Set 1.0 Standard
Description
Agile Management Set Standard, Scrum Board, Kanban Board and Lean Board Full Agile Kit for Office, Home or School, Magnetic Cards Set - Agile Project and Program Management Full Tool Set, 114 Pieces
✔️ STACKABLE; Our magnetic cards have been designed and tested to ensure maximum stackability in any direction. They can be easily stacked, grabbed and move around on magnetic boards. Our unique magnetic properties ensure maximum flexibility on how you want to stack them in any direction and concept!

✔️ REUSABLE; Our magnetic cards can be cleaned easily with a wet cloth and reused. Our reliability tests proved that our cards can be used up to 50.000 times without any degradation in quality! They are designed to be your partner in long years to come

✔️ SMOOTH WRITING; We thought about everything on our products from selecting special materials to color tones of the cards, thicknesses, sizes and markers go best with cards in order to make your writing experience unique

✔️ VISUAL; Everything is about being visual! Our products provide maximum visualization by grouping tasks with different color codes, attaching blocker cards to ease the identification of critical tasks as well as help prioritizing. Moreover, you can specify task owners right on the task cards in the dedicated area!

✔️ WASHABLE; Our design is special and highest quality possible for a magnetic card. We did not use any paper based material on our products and card design is printed by using UV printing technology directly on a special PVC material. It makes our products fully washable

Full Agile Management Set, Plus
The richest content on the market comes with the highest quality!
Full Agile Management Magnetic Cards & Accessories Set for Kanban, Scrum, Lean and any kind of Agile Management Methodologies.
All Magnetic Cards are uniquely designed for high efficient processes. Our complete magnetic cards set are washable, it passed >50.000 use case tests. You can reuse these cards for many years.
You can also stack them or locate them side by side. The special surface of the cards along with special 0.6 mm tips markers will make your writing experience unique!
Everything you need is in one set!
Washable

Reusable

Stackable

Smooth Writing

Easy to grab and move around

High Writing Quality
Suitable for;
✔ Kanban Board ✔ Scrum Board ✔ Lean Board ✔ White Board ✔ Agile Board ✔ To Do List Board ✔ Vision Board ✔ Chore Board ✔ Magnetic Board



Units in box: 114
Reviews
There are yet no reviews for this product.