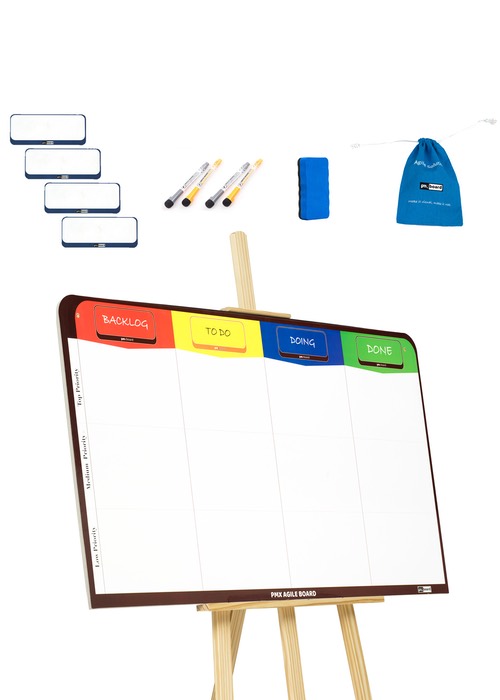 Scrum Whiteboard
Scrum Whiteboard, Kanban Whiteboard
Description
Scrum Whiteboard / Kanban Board / Scrum Board / Lean Board  - Agile Magnetic Board, Agile Management Board for Office, Home and School. Customizable Headlines on The Special Design Agile Board


✔ ULTRA LIGHT FULL MAGNETIC BOARD! It is just over 6lb! We used special EVA materials to make your unique board. Its strong magnetic power will keep all of your cards on it safely, and it is as light as a board can be! 
✔ SNAP ON IT, WRITE ON IT! Not only you can snap the magnetic cards on it, you can also write on the board! The set comes with board markers and erasers.
✔ CUSTOMIZABLE AGILE BOARD You can easily customize your board headlines with the empty headline cards that come with your set. Just snap the empty headline cards on your board right on column headlines locations, and make your custom headlines. 
✔ The Board comes with BOARD MARKERS, ERASER AND EMPTY HEADLINE CARDS (4). 
✔ LOCATE YOUR BOARD IN TWO DIFFERENT WAYS AS YOU DESIRE! You can locate your board ① just snap your board on another magnetic board easily, or ② you can hang it on the wall! Wall mount accessories come with the set too!

Pre-Designed Physical Kanban Board Magnetic & Pre-Designed Physical Scrum Board Magnetic
Carefully designed special Agile Management Board comes with its strong magnetic properties and beautiful look. You can also customize the headlines as you desire with the empty headline cards that come with the set. You just need to put the empty headline cards on to the existing headlines, it will snap and you just need to rename your column, that easy!
The Pre Designed Agile Magnetic Board can be used as;
Kanban Board (Kanban Whiteboard) 

Scrum Board (Scrum Whiteboard) 

Lean Board

Agile Board

White Board

Vision Board

To Do List Board

Chore Board
Empty Headline Cards will allow you to customize your board.
Our set is designed in the USA and manufactured in various countries internationally.
Beautifully designed ultra light Magnetic Board comes with built columns and headlines. Please note that Tripod does not come with this set, however it can be purchased separately. However, the set comes with wall mount screw set. Additionally, this board can be snapped on another magnetic board easily as an alternative set up.
Magnetic Agile Board Dimensions: 
42" x 23" (106 cm x 58 cm) 
The set includes;
1 Magnetic Agile Board (Kanban Whiteboard & Scrum Whiteboard)

4 Magnetic Blank Column Headline Cards for Customization

4 Board Markers (2 mm tips) , 1 Eraser 

1 Easel (Wood or Metallic depending upon inventory) 
Units in box: 1
Reviews
Sunday, 03 October 2021
absolutely fantastic product! It is functional, good looking and allows to customize it easily... I could not be happier with this board
Nkiru Fadiran
Friday, 17 September 2021
This is a great Kanban Board. Its magnetic properties is really strong, hold all the cards perfectly, also great as a white board to build your kanban board with text, without magnetic cards. Good looking and a premium quality board for sure, it looks great on our wall apart from everything else it does for us...
Tim Tebbor