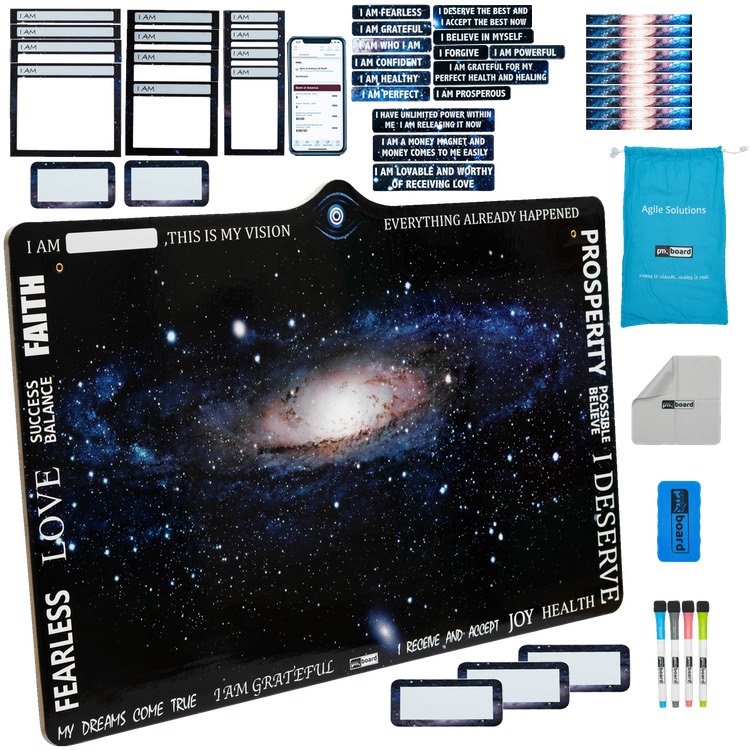 Vision Board Set
Vision Board Kit, Full Vision Board Set
Description
What if we told you we developed the world's most powerful vision board to make your dreams come true faster than you can imagine!
Vision boards are not new, it is the technique being used since centuries by many people successfully to create the life they dream of. It has been one of the greatest secrets in human history that was discovered and used by the wealthiest and most successful people lived on earth! However, have you ever thought about why everybody is not successful to manifest the life they dream of and yet some are? Why does so many people get disappointed with the results of this process despite the fact that this is a 100% effective and proven technique? We know why, because we know the secret beyond the secret! The clear path going to your dreams start with a high quality, spiritual, personalized and powerful vision board, and this is exactly where pmxboard Vision Board comes into play to close that gap! If you are not clear on your vision board and able to create the connection between yourself and your vision board, your vision board will not deliver what you asked from universe! The subconsciousness works completely different than our mind that we use on our day to day activities. Remember, our subconsciousness defines our reality, it is the only source of our reality. The key to communicate with your subconsciousness starts with clarity, simplicity and personalized pictures! The easiest way to understand this is to think that subconsciousness speaks a different language than your mind's language and now you need to create your vision board with the language your subconsciousness speaks, because it is who you want to communicate with in order to start the manifestation process! Now pmxboard Vision Board will be the magical tool between you and the universe and help you to manifest everything you dream of! Your mind will be blown to see how fast the things around you will start changing the way you desire and for the life of your dreams!
✔ FULL MAGNETIC VISION BOARD SET. This is the ultimate Vision Board Set to make dreams come true! All the laws of Law of Attaction applied on this complete Dream Board Set. Not only unique and powerful magnetic board comes in this set, but various magnetic cards and accessories come with the set. This powerful Vision Board Set designed to have powerful and fast positive changes in your life. This the board designed to communicate with deeper level of your subconsciousness and transform your life

✔ UNIQUE DESIGN FOR A POWERFUL VISION BOARD . Unique double magnetic sheet concept within a high density EVA Board. It is frameless, the colors are bright, it has a high resolution universe and pre designed quotes printed on it, and a space to write your name for personalization. There is too much details on this board to help you achieve the dreams of your life! This is the world's first and the only premium vision board set and it will be the best investment of your life!

✔ THIRD EYE TO ACCELERATE MANIFESTATION. Everything designed on this board is to connect deeper level of you with the dreams you want to accomplish! Third eye will be the gateway to establish a magical and strong connection with the universe. The third eye on this board is carefully designed to amaze you and take you to another level of awareness everytime you look at it!

✔ FULL MAGNETIC CARDS SET! These magnetic cards include nicely designed picture frames and straps to hang your pictures on the board easily and without any glue or board pins. Pre designed quotes, empty magnetic cards to write your own quotes and a customizable bank account magnetic card included in this set. All the magnetic cards come in this set has the same universe pattern as the board has for a smooth and powerful view.

✔ ACCESSORIES TO MAKE YOUR VISION BOARD SET WHOLE! Markers and cleaning set comes with your set. You have everything you need in this set to build your vision board, just do it now
Units in box: 1
Reviews
Sunday, 09 April 2023
I got this vision board for my niece for Christmas. She really loves mapping out plans and setting a schedule for herself. So this is the perfect gift. I love that it was metal so that she could add pictures of magnets to whatever she needs to hold up on the board And all the accessories that came with it I definitely recommend.
Nichole
Saturday, 31 December 2022
This board is very good quality, very thick - not flimsy, in fact it's rather heavy. We used a stud finder to find the studs to drill into to hang, just bc it's much heavier than expected - use screws. The graphic solar/galaxy print is good quality as well, not grainy. The magnetic aspect works great, the print is good quality overall. I appreciate that there are blank areas to write your own mantra/vision/manifest - just wish there were a few more. It comes with small dry erase markers and a cleaning cloth, which is for sure a nice to have item. Also has a blue bag to hold the additional pieces you aren't using, markers, etc.