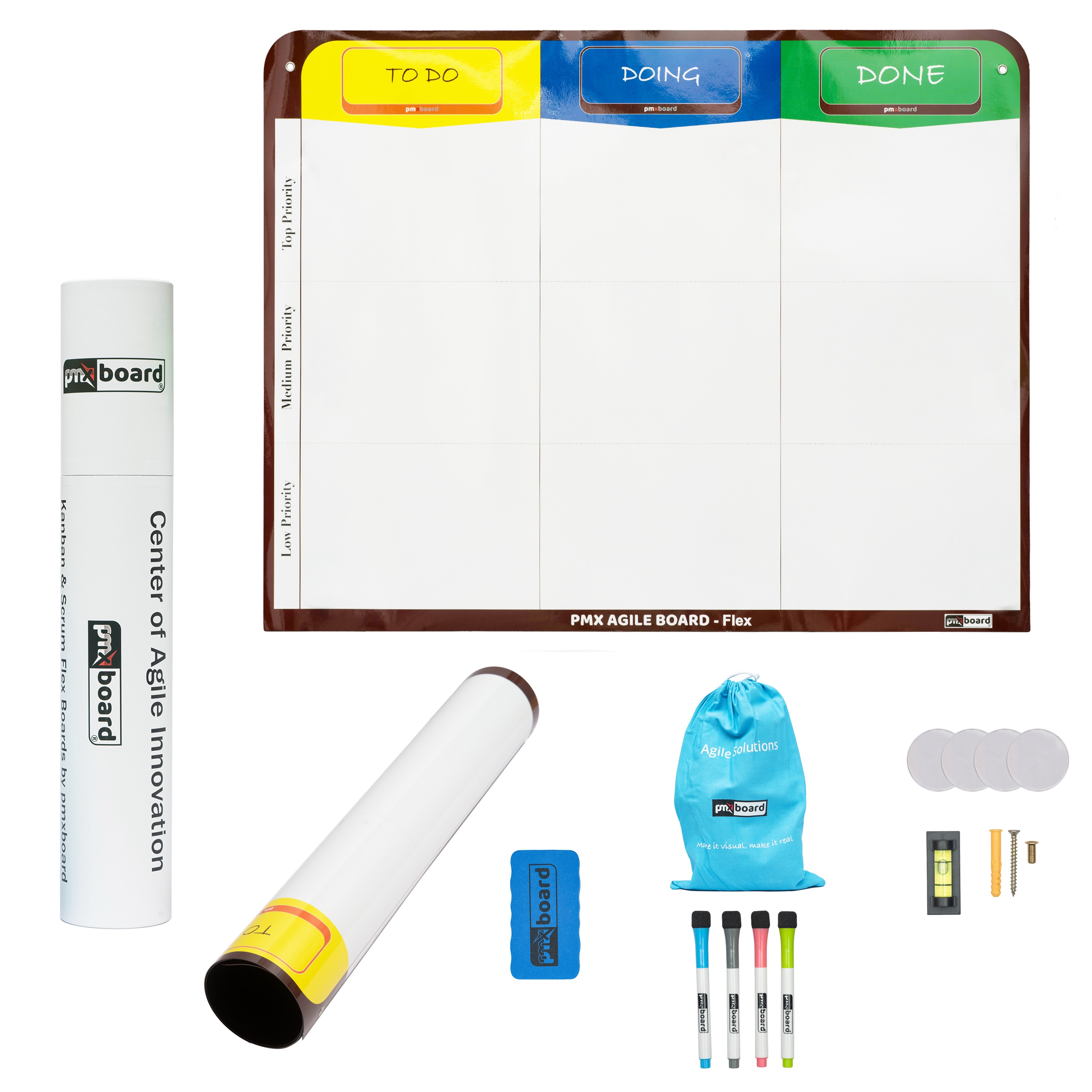 Magnetic Scrum and Kanban Board
pmxboard 3 Column Magnetic Kanban Board and Magnetic Scrum Board Flexible Board, Agile Management Magnetic Board, 4 Whiteboard Markers, an easer. Full Magnetic Board, Ultra Thin kanban whiteboard
Description
Want to feel more organized, productive and manage your projects or your life better?
This is the simplest and functional Kanban board you will find on the market brought to you by pmxboard! Great for office team members, working individuals or anyone who has a project ahead of them. Customizable and a complete set that is very mobile, easily roll it up and gets the job done without needing to buy a cumbersome, space taking and bulky magnetic boards!
This flexible Kanban board comes in 3 sizes: (small with 3 columns, medium with 4 columns and large with 6 columns). They all can fold into a small, easily transportable size and then open up to their large size! The flexible Kanban board set comes as a complete set with all the accessories necessary to utilize your board with the highest quality materials.
Designed by project management experts with years of experience in this field, this allows you to be highly successful in helping you and your team stay on track and get tasks done without worrying about the quality of materials – the cards won't fall off and the writing will not wear off! That's the pmxboard difference, the quality materials are the best on the market!
We used a special and strong magnetic sheets on this board, and despite it is being very thin, and comes as rolled, you can still snap the magnetic cards on it without any issue, stack them and place them wherever you desire! You will be amazed to feel the magnetic properties of this thin flexible board, it is as thin as a magnetic board can be while its magnetic properties are stronger than typical cumbersome and bulky magnetic board. The material in this flexible board are highly magnetic and the cards can easily snap on to the special magnetic sheet. This high quality all you to snap anywhere on very smoothly, this avoids any type of magnetic resistance between surfaces and it makes it very easy to snap the magnetic cards anywhere on them. You won't have to worry about loosing your cards and information! Focus on your tasks at hand and not worrying about poor quality Kanban boards!
Place the flexible board anywhere in your home or office with nails or a (two sided sticky). This allows you to personalize your Kanban board and place it is in the most convenient place for you and your team allowing you to easily communicate between teams, anywhere about anything.
The Kanban Flexible boards are a convenient, complete sets that all you to build your perfect Kanban Board, but also use as a white board as you desire, meantime do not take any space in your environment! Not only it is functional and special, but also it will look appealing in your environment with its special design and bright colors! The three sizes allow you to choose which is best for your needs and the high quality materials allow you to focus on getting your work done with this great product!
✔ FLEXIBLE AGILE MANAGEMENT BOARD. A special flexible Magnetic Agile Board wtih a perfect Kanban Layout on it. Suitable for building your Kanban Board, Scrum Board and Lean Management Board for Office, Home or School. You can use it as a Scrum Board, Kan ban Board, Kanban Planner, Project Management Board, Project Planning Board, Task Board, Lean Board, Communication Board, To do List Board, Continuous Improvement Board, Scrum whiteboard, Scrum Kit and Agile Kit

✔ FLEXIBLE, THIN, BUT STILL MORE FUNCTIONAL THAN TYPICAL MAGNETIC BOARD. Do not underestimate its magnetic power and its quality when you see its thin and flexible structure. You will be amazed not only with its magnetic power, but how smoothly you can locate other magnetic cards on it, and the quality of the surface. The high quality and functional magnetic board does not have to be cumbersome! Scale your board with additional magnetic card wtih 100% pmxboard compliant magnetic Agile cards

✔ THREE COLUMNS TO GET THINGS DONE. The predesigned layout comes with three columns on this board. "To Do" in yellow color, "Doing" in blue color and "Done" in green color

✔ ULTRA LIGHT FULL MAGNETIC KANBAN BOARD AND WHITE BOARD! It is just over 6lb! We used a special materials to make your unique dry erase magnetic board. Its strong magnetic power will keep all of your cards on it safely, use them on your projects easily. This magnetic dry erase board is as light as a magnetic scrum board or a kanban magnetic board can be! Complete Kanban Board Kit and Scrum Board Set with Agile Scrum Cards

✔ SNAP ON IT, WRITE ON IT! Not only you can snap the scrum card magnetic, kanban card magnetic and agile magnets on it, you can also write on the board! It is a dry erase board. The set comes with non permanent special dry erase board markers as well as an eraser. Kan ban cards, Kanban Magnets and Scrum Board Magnets will stay anywhere on this board!
Units in box: 1
Reviews
Friday, 13 October 2023
My husband and i got this to use for personal reasons. Its very good quality and comes with plenty of accessories. The magnet pieces stick to the board easily and securely. Two of the markers dont smudges and make fine lines for writing clearly.
Ashton Hanks