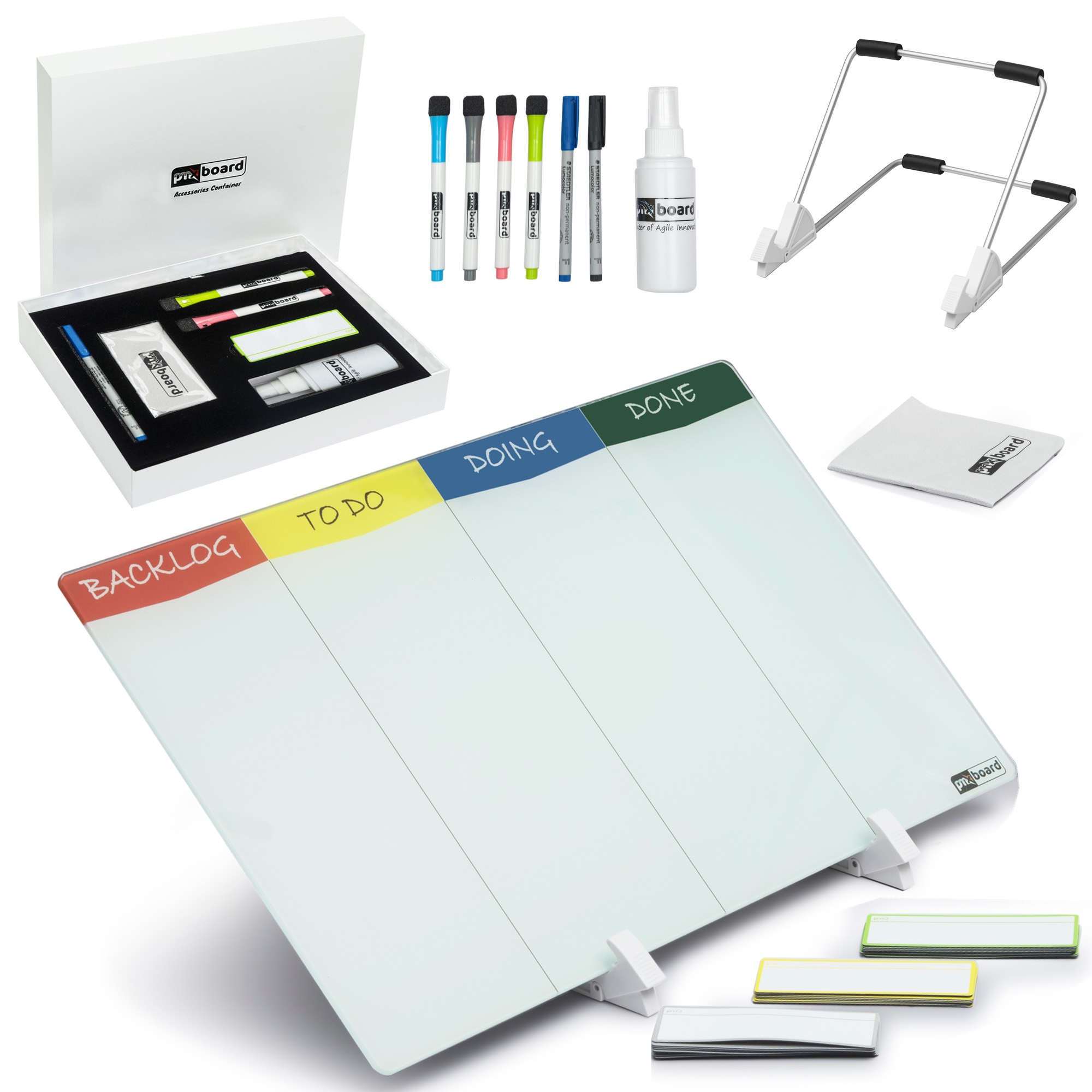 Desktop Kanban Board Set
Agile Management Board Set, Full
Description
pmxboard Double Sided Desktop Kanban Board and Desktop WhiteBoard Full Toolset. 24 Reusable Kanban Cards, 4 Board Markers, 2 Card Markers, and Accessories. Portable Planning Board with Double Side use
✔ Double Sided Full Agile Management Board and Whiteboard Set. One side is a glass board with Kanban Board layout, the other side is a whiteboard. The Kanban and White Board set is designed to maximize your efficiency and get things done without leaving your desk!

✔ Desktop Board Set. This board set will change the way you use white boards and agile management boards. You do not need to leave your desk, you do not need to leave where you work normally. Just locate your board set next to your laptop and maximize your efficiency

✔ Portable You do not need to leave your board behind after working on that for hours, those days are over, take your board with your wherever you go, just pick it from its stand easily and move around on one hand, or simply put in your bag

✔ Reusable Sticky Cards Set. The set comes with reusable and washable sticky Kanban Cards and Scrum Cards to snap on kanban board. Our resuable canban cards are newly developed unique cards that will snap on this beautiful glass Kanban Board over and over

✔ Premium Quality. Everything in this set is premium. Framless glass board, wear resistant design, high quality markers, and everything you would need to build both your Kanban Board and use your white board
Stay organized and on-task right at your finger tips!
This Desktop Kanban Board Set by pmxboard is a brand new concept allows you to bring the benefits of a large cumbersome Kanban board directly to your desk! Designed by experts in the field, it is truly 1st of it's kind and will change the way you work!
The unique design has the traditional Kanban board set up with a stunning glass top on one side and a white board on the other allowing you to easily track progress of your work and organize your thoughts. It comes with a complete set of accessories that you may need and is made with the highest quality materials making it stand out from any other board on the market.
Everything next to your fingertips!
Not only is the design and look of the board perfect, but the materials are of the utmost premium quality and will last for many projects to come! That's the pmxboard difference, the quality materials are the best on the market! The sticky cards included in the set are a brand new item totally unique and coming to the market worldwide - other glass surfaces do not hold magnetic cards even if they are fully magnetic but these can easily snap onto the glass surface and can be used over 1000 times and not lose their stick! There are also 3 colors of cards so that you can personalize them. They are washable, reusable and customizable making it perfect for any task, project or goal you want to track! The pens are among the best of the best too, giving you a perfect application every time and won't wear off.... And once you've completed that task, easily wipe it off and start all over again.
Replace desktop and office clutter with this gorgeous board! Working professionals, college students and stay at home parents can all benefit from this desktop Kanban board and white board!
It also comes with a convenient stand – everything you need in one kit! Carry it with you wherever you may need as it's lightweight and easily transportable! Making it perfect for working from home and the office, bring your Kanban board with you!
This helps you get organized, stay on task, and get things done right at your finger tips!
Stunning, beautiful and high quality, the desktop Kanban board set will be the perfect addition to your desktop!
Units in box: 1
Reviews
Sunday, 09 April 2023
I got this to be more organized in what needs to be done when on the farm. It does come with everything shown, extra pens, labels that you can move from area to area as you get it done or need to do something, eraser, stand, and board. You have to put the stand together and it seems a little flimsy. I probably won't use it in the future. It is more like a glass board than the metal edged, plastic paper type of white boards that are sold everywhere. It has a glue or adhesive rough edge that is kid of rough and annoying but I think it will wear off with time. You have two sides on the board. One side is blank so you can add whatever topic you need or you can jot down drawings, or thoughts and flip it back over to use the to do or done side. It comes with several sticky on one side tabs that you can move from one column to another instead of erasing and rewriting what you just erased.
Rebecca Tate
Saturday, 31 December 2022
As a bit of a nooby to Kanban planning, but very frequent user of other project planning methods, I am impressed with this board. The board and stand are very well made and heavy duty. The markers included are also well made. Even the packing box is nice quality to keep the board when it is stowed away between classes. About the only thing I don't understand is why the Kanban side wasn't done in whiteboard material so magnetic labels could stick, too. The labels for Kanban side are plastic and adhere well initially. Have to keep the Kanban side very clean and the backside of the vinyl labels start clean so they don't peel off
Raul Smith
Saturday, 31 December 2022
I have been in the software business all of my professional life so I got this to help me transition some of the skills and procedures I have used to my personal life (I'm not going to get Jira for my housework :)). This takes me back to the days of whiteboards and post-it notes. The stand is easily put together I wish you could adjust the angle but I'll live. For the dry-erase markers, they all seem to be fine and write and erase just fine. The markers for the cards and writing on them you do need to let them dry for a bit or it smudges but that's just a use case. The cards are what are really neat to me they aren't magnetic and arent like sticky notes but they stick to the kanban side like they are magnetic. To wash them off I only use water but so far that has done the trick. For the whiteboard side, it is your typical whiteboard nothing too special about it. The glass side, however, is the kanban board and works great with the cards, I've already used it for some of my housework and it lets me know what I'm working on and what I have to do so I love it. If you are looking to get organized not only with tasks but with time this thing is amazing.
Christhopher Lin
More reviews